Flowerbar Patisserie Kitchen

Our aim is to continue to innovate and bring new multi-sensory experiences to our customers .
Welcome to our French-style Flowerbar Patisserie Kitchen
The specially constructed Flowerbar Patisserie Kitchen features counter to ceiling glass where customers can marvel at the beating, stirring, baking and cake decorating skills of our team, and even take a seat at one of the kitchen's high-topped stools and enjoy a freshly-made cake or pastry.

Our new range of unique cakes, pastries and bespoke chocolate complements the existing signature Flowerbar range. It includes individual-serve petit gateaux and larger versions for sharing known as entremets.
Here's a little taste of our delectable offering…
Hazelnut and Dark Chocolate
Lemon, Basil and Blueberry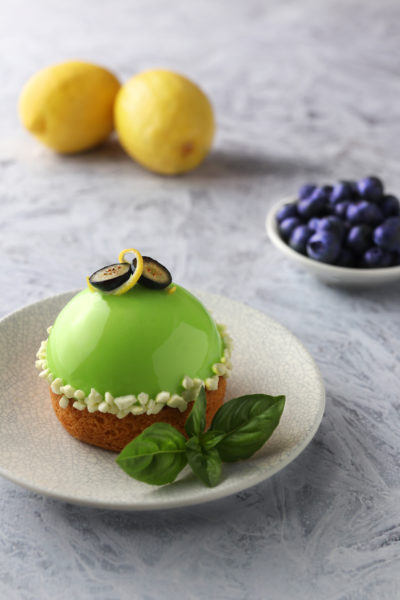 Orange and White Chocolate
Meet the team: Zoey Elson, Head Pâtissier
Having grown up in a large family which gathered around their open kitchen, Zoey Elson started indulging her passion for cooking from a young age. This means cooking in front of the thousands of people passing by the world's first open patisserie kitchen in a supermarket, comes quite naturally to Zoey who at just 22 years of age is Head Pâtissiere of our Flowerbar Patisserie.
After her career trajectory at the Mayfair Hotel was sidelined by covid disruptions, Zoey joined us at Pasadena to build the stunning Flowerbar Patisserie in just a few short months. Zoey has embraced this unique opportunity to create something extraordinary where she loves focusing on the intricate, fine details required to merge the science of baking with artistic creativity to bring these stunning offerings to life.
She particularly loves the freedom to dream up new creations inspired by the incredible ingredients at her fingertips in Pasadena's world's biggest pantry. Zoey is working in a team of seven, and like the cooking tips she learned from her parents (passed down from her grandmother who was a stalwart of the Eyre Peninsula CWA baking scene) she is also learning from those in the team around her. For Zoey, the opening of the Flowerbar Patisserie is just the beginning.