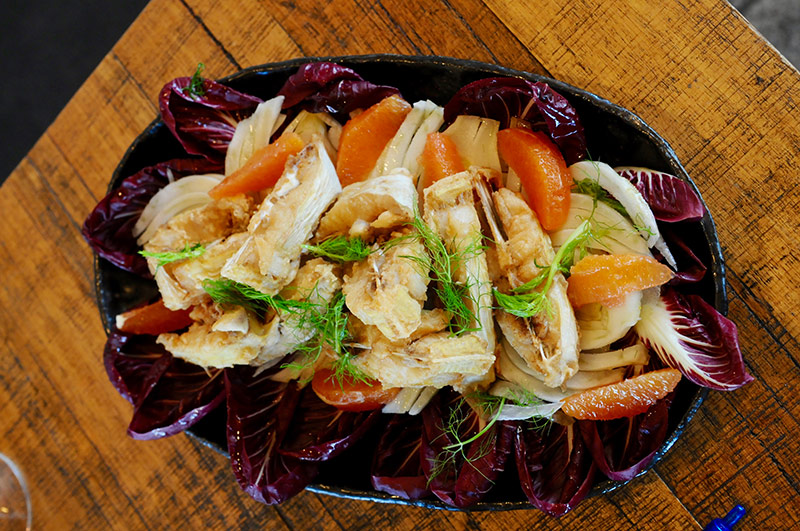 Fresh Winter Salad
Locale Recipe
A winter salad winner called insalata di finocchio (fennel and blood orange salad) served with leatherjacket fish.
This crisp, tart salad is the perfect accompaniment to the sweet local leatherjacket. You can also use ruby grapefruit instead of the blood oranges.
Leatherjacket is available in the seafood section of Frewville and Pasadena. The fish gets its name from its thick skin which has a sandpaper-like texture and peels easily from the flesh. It has firm, white, lustrous flesh that becomes quite dense on cooking but remains moist and holds its shape.
Ingredients
(Serves 4)
8 cleaned leatherjackets
Olive oil for frying
Plain flour
Radicchio leaves
1 large fennel bulb
2 blood oranges
80 ml olive oil
20 sun dried black olives
2 tbsp red wine vinegar
Salt
Method
Remove tough outer leaves from fennel, reserving a few tender leaves for garnish, wash and slice thinly (use a mandolin if you have one). Peel oranges, removing all white pith and membrane and cut into segments or half rounds. Layer fennel, radicchio and orange slices into a serving dish or directly onto plates.
Lightly dust fish in flour, shaking to remove excess, and fry a few at a time in hot oil until golden and cooked through.
Drizzle salad with olive oil and vinegar, lay fish over, season with salt, garnish with fennel leaves, olives and serve immediately.